| | | | |
| --- | --- | --- | --- |
| "INAUGURATION" this opens Friday! | | | |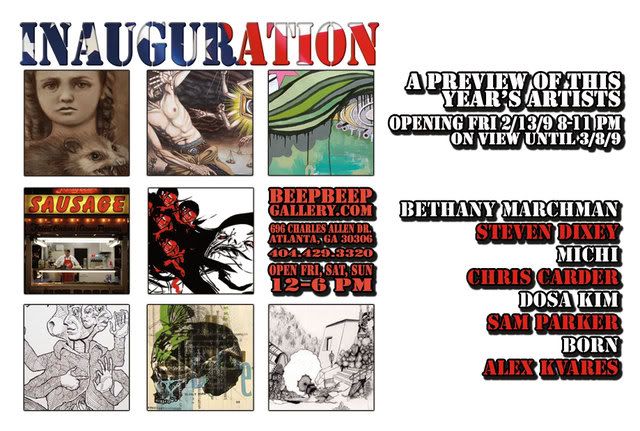 Over the course of Beep Beep's existence, we've had the pleasure of working with a ton of local emerging talent. During this time we've hosted various group exhibitions, themed shows, collaborative endeavors, and other combinations of personalities and styles we thought would best highlight Atlanta's art scene. This year we've decided to try a different direction, giving the space over to 8 individuals and asking them to transform the gallery to their taste. In the coming month's you'll be seeing all new bodies of work by some of Atlanta's most promising and talented artists, and this weekend is your sneak peek.

This Friday we are proud to present a preview exhibition of upcoming solo shows featuring new work by each of our 2009 artists, including:

DOSA KIM
BORN
MICHI
SAM PARKER
STEVEN DIXEY
CHRIS CARDER
ALEX KVARES
BETHANY MARCHMAN

There are some great images of their work on website, although none of those pieces will be in the show. The new work is so new we haven't even seen it yet!

Check them out here.

GALLERY & STORE HOURS
Wednesday 12pm - 6pm | Thursday 1pm - 6pm | Friday 12pm - 6pm | Saturdays 12pm - 6pm
*During the 2nd week of each month we are closed in order to prepare for the next opening reception.
Opening receptions are on the 2nd Saturday of each month from 8pm to 11pm.
© 2013 Beep Beep Gallery | Atlanta Art Gallery | Local Emerging Artists
Contact Us
696 Charles Allen Drive, Atlanta GA 30308
Map/Directions