Four Coats Mural Unveiling: JULY 30TH
After months of work, we're nearing completion on the murals for Four Coats. To celebrate we're hosting an unveiling JULY 30TH from 6-9PM. Come by each of the 4 walls to meet the artists and view their new works.
The locations of each mural can be found here: http://fourcoats.wordpress​.com/mural-locations/
We'll be at Lucha Roriguez's wall at 573 Juniper St NE. We'll be painting rocks and hanging out so come on out!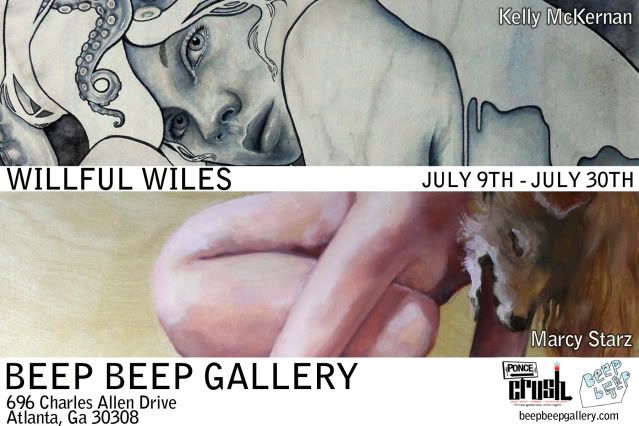 "WILLFUL WILES"
New Work by Kelly McKernan & Marcy Starz

JULY 9TH - 30TH
Not unlike a predator tracking prey merely for recreation, "Willful Wiles" exposes the animalistic impulses and desires that humans instinctively engage and subsequently indulge in. Choosing the contemporary female figure, Kelly McKernan and Marcy Starz explore the means by which their subjects entice and manipulate their unwitting victims, whether for the thrill of the chase or the affirmation of their adroit sexuality. The wo...rk draws correlations between the animalistic tendencies we continually exhibit as a civilized species and our own misguided self-perception - are we as composed and calculated as we'd like to think, or do we act on impulse more than we'd like to admit?
_____________________________________________________________

MARCY STARZ is an emerging artist from Marietta, Georgia. She studied visual arts at Kennesaw State University, a campus in the northwestern suburbs of Atlanta, Georgia, where she received a Bachelor of Fine Arts degree in December, 2009. Marcy maintains a busy career as a gallery artist in the Atlanta art scene. Her latest body of work deals with the fundamental needs of survival: food, sex and shelter while examining ancient, pre-historical correlations to our contemporary lifestyles.Opening reception July 9th 7-10 PM.

KELLY MCKERNAN is a 2009 graduate of Kennesaw State University where she obtained her BFA with a concentration in drawing and painting. Over the last few years, she has been exhibiting her work locally with galleries such as Beep Beep Gallery, Young Blood Gallery, and MINT Gallery, as well as nationally with the likes of Thinkspace Gallery and Nucleus Gallery in Los Angeles as well as at the prestigious Art Basel Miami. Kelly's work has been printed in numerous publications and she has also been published as an illustrator for two children's books to date. She is a member of two Atlanta art collectives - The Cheap Paper Collective and Brain Camp. She currently resides in Marietta, Georgia with her husband, Reed Cavanah, and spends her day time as an eccentric preschool teacher.

http://kellymckernan.com/
http://marcystarz.com/

http://beepbeepgallery.com/
http://poncecrush.wordpress.com/

Review of "Tragedie" from Burnaway
Tragédie: Myths and American Dreams Gone Wrong at Beep Beep
Life is made of more tragedies than comedies due to circumstance, point of view, or environment. Children are often fed stories to help them learn lessons that parents hope they never have to use when they grow up. Some of these are fairy tales and fables, but they also include true stories of friends that have found themselves up Shit's Creek without a paddle.
<< Start
< Prev
1
2
3
4
5
6
7
8
9
10
Next >
End >>
Results 33 - 36 of 163